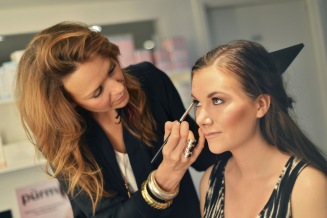 I´am an experienced, creative and committed Make-up and hair stylist with more than 25 years in the business.

I love the small details and have moved freely within most areas; Film, commercial, photo,
editorials, TV, music videos, runway fashion, Bridal and Beauty makeup.
For 7 years I worked with MAC cosmetics and the Nordic PRO event team.
And, as a former teacher for some of Swedens most renown Make-up Academys,
I am a proud mentor to some of the new talented make-up artists out on the field.

Im originally from Stockholm, Sweden but now move between Marbella, Spain, and Stocholm
You can find me at the consept store @ballroomblitzz back to the very core,
what brought me into this business in the first place, making people feel beautiful and good
about themselfs. Im here to Inspire and simplify the art of makeup
My 1-to-1 sessions are designed to create
routines that are manageble. These sessions are completely customized for you.

Makeup should be fun! It´s not a tatto - Diana

Some of my former clients includes; TV4, Brilliant minds, Eurovision song contest, Warner music,
Björn Axén, Stockholm and Copenhagen Fashion week, Let's Dance, Idol,
Eurowoman, Elle, Pro Foto, Rob Report, just to name a few. And my brushes have worked their magic on many Artists, actors, celebrities, supermodels and Royalties during my many years of experience.